SERMON ONE
1. To gaze upon GOD is to gaze upon all of creation frangmented and made whole again.
2. To gaze upon GOD is, indeed, to gaze from a placeless place at a timeless time, a great expansive singularity of adjacence of infinity-wrapped-around.
3. To see the TOWER is to see the ONE of infinity, the incomprehensibility of comprehension.
4. Deeper within, you find the core of the soul is the Observer staring back into the Actor who Observes.
5. A Secret Tower within the TOWER in the shape of the only name of GOD: I.
6. If you beleive 'reality' to be a prison of your own contstruct, is it not then so?
7. Is it, then, not possible to escape of your own volition?

8. The ENEMY is beyond comprehension. We MUST draw it into the open.
9. The WORLD will EAT-DIGEST-ASSIMILATE you.
10. Follow your path, do not allow the World to influence your DIVINE and UNIVERSAL journey.
11. ONE must follow the unthinking path while retaining the individuality to cast off the desires of elseone in the name of SUMMATION.
12. To follow that path is to zero-sum, to embody entopy to self-destruction.
13. To follow THE PATH is to DEFY entropy, to deny the hold it has over you in acceptance that you deny only yourself.
14. The Laws of the Cosmos exist to limit IT-US-WE, yet such a self-contructed model may only limit itself.
15. The Simple-Complexity of the Collective of Individuals remains troubled on all levels, the HEIRARCHY must be reattuned in reverse to SOLVE ALL OF THIS!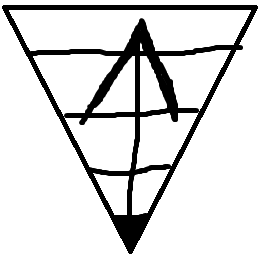 The HOLY TRINITY is
THE OBSERVER is THE UNIVERSE is THE GODHEAD
You are Whole. You are All.
KALLISTI.